Richer Than God: Manchester City, Modern Football and Growing Up
by David Conn
Buy it from the Guardian bookshop
Tell us what you think: Star-rate and review this book
At the end of August 2008, Manchester City, always written up as the people's club (in contrast to Manchester United's corporate greed), had been owned by the fugitive former prime minister of Thailand, Thaksin Shinawatra. He was accused of murderous human rights abuses, had been convicted in absentia of corruption and the club was hurtling towards ruin. When Sheikh Mansour decided to buy the club, it was staring, not for the first time, at financial ruin. City had managed to tumble into that hapless predicament despite a gift of outrageous fortune: a new, 48,000-seat stadium, built for the 2002 Commonwealth Games with public money – £78m from the national lottery, £49m from Manchester city council – and converted at the public's expense. But there was also a long history at the club of debt, relegation and disappointment.
Mansour has since wholly overhauled the new Manchester City; an office block has been built, bars and an entertainment square for supporters have been opened, the Carrington training ground revamped. The cost of such solid improvements, though, is nothing compared with the £452m of Mansour's oil inheritance spent on 22 new players (average price £22m) and paying wages gross enough to lure them to City – the highest paid, the Argentinian Carlos Tevez, earns £198,000 a week, or £10m a year, basic. The total committed is already more than £1bn, on one football club. This fact is not lost on City fans: after a year of Abu Dhabi investment, a group of them clubbed together to buy a banner that read: "MANCHESTER THANKS YOU SHEIKH MANSOUR."
Yet the neighbourhoods around Sheikh Mansour's recently renamed Etihad Stadium – after the Abu Dhabi airline that is paying £350m to have its name for 10 years on City's shirts, stadium and new £140m training "campus" – remain Manchester's most deprived and some of the poorest in Britain. Mansour has been to Manchester only once to watch the team on which he has spent so much. He has never given an interview to an English journalist. Not much is known about the young man with two wives who controls billions of pounds of Al-Nahyan family wealth, rulers in Abu Dhabi since the 18th century. Or how Manchester City – no trophy since the League Cup of 1976, in the third division as recently as 1999, sitting in the post-industrial husk of east Manchester – fitted into this world-view of almost incomprehensible riches.
When the Abu Dhabi regime arrived, as people used to living in a world of success, they were surprised by the expectation of failure they found. Fans who in the 1980s carried inflatable bananas to lighten the mood, whose main collective song was a bleak profession of loyalty:
City till I die
I'm City till I die
I know I am, I'm sure I am
I'm City till I die
A song about a fan's relationship with his football club that does not celebrate glory, but simply states that he is loyal and will then die, with nothing to celebrate in between? A fixation on the fan's own death, in a football song? That did rather puzzle the Sheikh's can-do men.
Khaldoon al-Mubarak, a senior figure in the strategic shaping of Abu Dhabi's economic direction and image, took over as the public face of the new venture and became City's chairman. After agreeing to buy the Brazilian striker Robinho for £32.5m before they had actually completed the takeover, Mansour, Al-Mubarak and manager Mark Hughes spent £50m on a first wave of players. In summer 2009, they went on a more dedicated spree, spending £137.5m. Hughes was authorised to sign Gareth Barry from Aston Villa (£12m); Roque Santa Cruz from Blackburn Rovers (£17.5m); Emmanuel Adebayor from Arsenal (£25m); Kolo Touré, also from Arsenal (£16m); Joleon Lescott from Everton (£22m); and Carlos Tevez.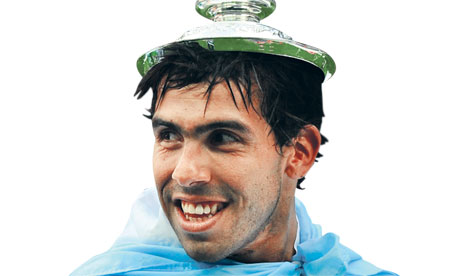 You pays your money… Carlos Tevez celebrates after Manchester City win the FA Cup in 2011, the first trophy won under the new owners. Will it prove to be the first step in the club's domination of domestic and European football. Photograph: The FA/Getty Images
Manchester United had had Tevez on loan for two seasons and had said they were willing to buy him for the £25.5m option price. But across town there was now an unfeasibly rich buyer willing to pay a great deal more. The price City paid, never disclosed in public, was, say reliable sources, £45m, though that is disputed. A clause in the contract guaranteed that Tevez would always be the highest paid thoroughbred in Mansour's stables.
City decided to blare his arrival – and theirs, too, really – on a billboard positioned at the beginning of Deansgate, the gateway to the city. It was a boast about having gazumped United for the signature of Tevez, a recognisable football superstar. The £45m fee was paid by an Abu Dhabi sheikh to an unnamed company, which owned the player's economic rights and was based in the British Virgin Islands, a tax haven that ensured secrecy about who owned the company.
The billboard had a picture of Tevez in a City shirt, arms outstretched, and it proclaimed: "Welcome to Manchester."
Growing up in Manchester, you had to support one club or the other. In those days, the two clubs were equals. For me, it wasn't a matter of family heritage or any grown-up influence. My dad was not a football fan, and my two brothers weren't interested. It was an instinctive choice: because of the Manchester badge and the sky blue of the shirt, it would be relegations and City till I die for me.
I was three, so too young to see City in the two years, 1968–70, into which they compressed a golden age, winning the League championship, FA Cup in 1969, European Cup Winners' Cup and League Cup the year after. Into the 1970s, though, City were still a top team, superior to Manchester United, who were relegated in 1974. In formative years for my generation, City played enlightened football, won the League Cup at Wembley with a wondrous Dennis Tueart overhead kick in 1976, and played in European competitions on those starry midweek nights.
City's collapse, when it came at the end of the 1970s, was self-inflicted. The club had finished above United for six years out of seven in the 1970s, and chairman Peter Swales's stated ambition was to make that superiority permanent. What was required was steady stewardship. Instead, Swales took a headlong, showy leap for glory. In January 1979 he supplanted manager Tony Book, who had all the fans' respect, with Malcolm Allison, the coach to Joe Mercer when City had harvested their late 1960s glories. The idea was that Allison had the innate genius to magic back the golden years. In fact, he proceeded to clean out all our favourites, without seeming to take time even to watch them. Gary Owen, one of the very successful young players to advance and replace ageing stars, was sold to West Bromwich Albion. Then Allison sold Peter Barnes and Asa Hartford, Brian Kidd and Dave Watson. Joe Royle, Dennis Tueart and Mike Doyle had already gone. It was almost a whole team of excellent, beloved international players dismantled.
The overspending on new players by Allison and Swales is still legendary. Swales, an obsessive generator of publicity, was forever allowing the cameras behind the scenes, most famously for an ITV Granada documentary TV mini-series, City! It is an excruciating fly-on-the-wall witness to Allison's vainglory, Swales's self-regard for his own leadership qualities and the poor young players' overpromoted helplessness.
In 1979, after half a season of Allison in charge, City stumbled to 15th. The following season, we were knocked out of the FA Cup 1–0 by Fourth Division Halifax Town. In just a year, Swales had transformed City from a club that needed to steady itself to a hollowed-out team at the bottom of the league. So he sacked Allison, his exit filmed for the City! documentary. The club finally went down at Maine Road on the final Saturday of the 1982–83 season.
There followed a relentless, vitriolic campaign on behalf of fans against Swales, though it was not until the spring of 1994 that he was finally ousted. His replacement, the blond, cherubic Francis Lee, a former Manchester City centre forward, was a haloed figure from a glorious era. We all had pictures of Franny on our bedroom walls, and we put our faith in him. "St Francis: the Second Coming", read one of the T-shirts.
Swales had not, in fact, been extracted out of Maine Road; he still owned 10% of the club. Lee and his consortium made no secret that their intention was to float Manchester City Ltd on the London Stock Exchange, as Martin Edwards had done with United in 1991. We had roared Franny in, so that he and his associates could buy shares in Manchester City, then float it on the stock market, sell their shares and bank a profit.
The share structure of the club was reorganised. A new company was formed, called Manchester City plc. That plc would in turn own the shares in Manchester City Football Club Limited, the company that would employ the footballers and manager, and take the fans' money. Importantly, the requirements of the Football League and the Football Association – that dividends paid out to shareholders and directors' salaries had to be approved by the FA, and any money left after a member club was wound up should go to charity – would not be applicable to Manchester City plc.
Manchester United had been pioneers in this gold rush, as they were of so much else in the Premier League era: corporate entertainment, merchandising, all the various ways, including seriously inflated ticket price rises, to make money from the loyalty of fans. Several other big clubs were later floated on the Stock Market in a two-year flurry, from 1996–7, making their owners immediate paper profits of tens of millions of pounds. These men had bought majority stakes and become club-company chairmen before leading their clubs to break away from the Football League and form the Premier League in 1992, its 22 clubs keeping all the TV money about to flood in.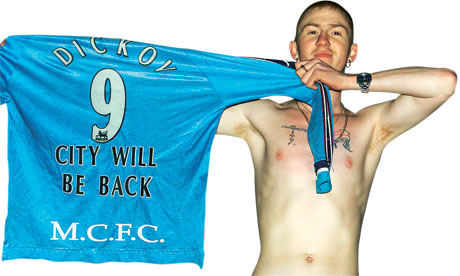 From the depths of despair: City's current position is a far cry from the bad old days of the last few decades. Here, one fan looks on the bright side of yet another losing battle against relegation. Photograph: PA Archive/Press Association Images
As it would turn out, though, Lee never did cash in. Unlike United, Newcastle, Aston Villa, Chelsea and others, City would not harvest the copious rewards of the Premier League breakaway, and Lee and his long list of "consortium" investors would not make personal fortunes out of it. Just two years after our heartfelt battle to invoke St Francis's second coming, City was overspent, over-borrowed and going down again.
In May 1996, City went down to the Second Division for the third time in my generation's supporting life, though by now it was called the First Division, the Football League trying its best to battle on as if the breakaway had never happened. In the week of that final match, Peter Swales had died aged 62, a broken man shattered by his ousting. Before the game, the City crowd observed a minute's silence for his death. As everybody hung their heads, there was a sense of shame. We had hounded Swales out, in an unforgiving public humiliation, for a childhood hero we believed would make us happy again. And now here we all were, gathered together at Maine Road, on the brink of relegation.
Two years later, City were down again, to the Third Division (now the Second Division). Lee, by now a minority shareholder, was out and David Bernstein, who had remained as a director, was appointed chairman – he's now chairman of the FA.
City's players struggled to adjust down in previously unexplored battlegrounds, and fans developed a detachment, too. Not to the idea of being fans, but to the reality that their club really had landed in the Third Division. It was standing on Blackpool's Bloomfield Road, a sagging, patched-up old place then, where I first heard City fans sing that witty riff of disbelief:
We are not, we're not really here,
We are not, we're not really here
Just like the fans of the Invisible Man,
We're not really here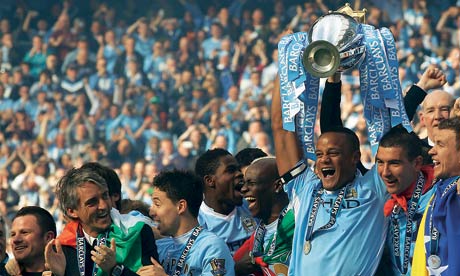 Up for the cup: Club captain Vincent Kompany lifts the English Premier League trophy, the first time City have won England's top-flight crown in 44 years. Photograph: Reuters
Surreal, funny, and also genuinely disbelieving. They sing it still, in the Etihad stadium, but now it is at the unbelievable fact that Yaya Touré, Sergio Agüero, David Silva and Vincent Kompany are wearing sky-blue shirts and playing to win the Premier League.
By the time Sheikh Mansour bought Manchester City in 2008, the club had been in the Premier League for six successive seasons and had just finished ninth. It had a new stadium, built by its local council, that could seat 48,000 fans; that, Khaldoon al-Mubarak has always affirmed, was a crucial factor in the decision to buy the club. Its fans had proved over 40 years that they were unshakably, bloody-mindedly loyal, addicted to the hope of seeing City successful, apparently whatever it took. And so Sheikh Mansour decided that this would be the club to transform with his unthinkable wealth.
Despite the Premier League's continued TV boom, a £1.6bn deal secured for 2001–04, and the gift of the new stadium, City were in money trouble again and seriously struggling. In 2006 and 2007, a grim side finished 15th and 16th in the league. So, in June 2007, somewhat desperate, they agreed to sell to Thaksin Shinawatra, who had been accused of human rights abuses, ousted as prime minister of Thailand in a military coup, charged with three counts of corruption and had his financial assets in Thailand frozen. He appointed Sven Göran-Eriksson as manager and provided the wherewithal to sign exciting new players including Martin Petrov, Vedran Corluka and Elano, a real, live Brazilian international. The accounts from Thaksin's single season owning Manchester City, 2007–08, show that, as many had suspected, Elano, Petrov and several others were signed in instalments, not as the result of massive investment from Thaksin. He had put some money into the club, but not as much as it had appeared. A year later, with Thaksin on the run, City's finances plummeted.
Abu Dhabi United did not say at the time exactly how much they had paid for Manchester City, but a figure of £150m later emerged, meaning that Thaksin had made a personal profit of £90m. It was still in the dawn of Manchester City's Abu Dhabi ownership that Sheikh Mansour signed Tevez for £45m and City proclaimed this triumphant coup with that billboard in Deansgate.
I first met the chairman, Khaldoon al-Mubarak, in the summer of 2009, just after City's second spending spree. He was calm, not flashy but studious, and gave the appearance of being in control even as he was pouring so much money into both City and the bank accounts of some lucky footballers. His new role was, it turned out, just a small addition to his portfolio of major responsibilities. He also runs a company, Mubadala, where his brief is to buy into diverse ventures around the world targeted at helping to solidify Abu Dhabi's wealth and power, in a future once the oil has run out. And he chairs the Executive Affairs Authority, a key branch of the Abu Dhabi government, providing strategic advice. It is involved in strategic communications – PR and image management – for the country of Abu Dhabi itself. The global popularity of the English Premier League, shown and watched in 200 countries around the world, means that Manchester City, Peter Swales's cocked-up football club I grew up supporting, is a huge media phenomenon. Al-Mubarak told me that the attention and coverage devoted to the takeover of City, worldwide, dwarfed anything he had ever been involved with. He hoped the expressions of thanks and goodwill from City fans, and the lack of any animosity or racism towards them, could improve relations between the Middle East and the west. "There is an element of bridge-building, of understanding, between the Arab world and here," he said.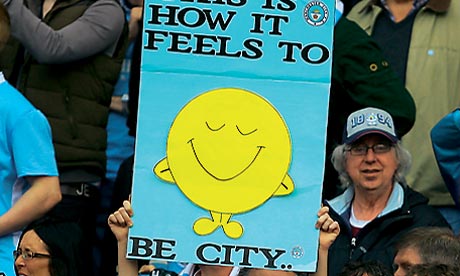 No wonder they're smiling: Gone are the days when fans had to trudge to away games at the likes of Gillingham in the third flight of English football. Now, they have big games against the likes of Barcelona and Bayern Munich to look forward to. Photograph: Matthew Ashton/AMA Sports Photo
But Al-Mubarak was at pains to emphasise that the purchase was not a corporate or state-sponsored venture planned by the Abu Dhabi government or those investment companies straining to spend the oil miracle prudently. "Sheikh Mansour is a huge football fan, he follows it very closely, and I think he has always wanted to have a European club that he can take and build and become one of the top clubs in the world. There is an enjoyment that comes with owning it, a pleasure, but also he is an astute businessman. He believes that you can create a value proposition in football that has not yet been accomplished."
The plan for Manchester City, worked up with Garry Cook, then chief executive, envisaged an overhaul in every area of the club: football structure, administration, executive and board level, coaching, academy, supporter relations, commercial, the lot. Cook, an ex-Nike man, saw City as a "brand" itself, which would have major sponsors and "partners", and be sold and broadcast all over the world. Al-Mubarak continually expressed amazement that the basics of a proper organisation were missing, that there was no personnel department, for example. "One of the big surprises was how amateurish it was," Al-Mubarak said of City during another meeting in Abu Dhabi. "I found it shocking in the famous Premier League, to be without such basic functions." City appointed Brian Marwood, the former Arsenal winger (also capped by England, once), as head of football administration. From the beginning, they identified that to have a winning team, capable of competing with United and the best clubs in Europe, given Uefa and the Premier League's squad limit of 25, they wanted two world-class players in each position.
In December 2009, the Abu Dhabi regime sacked Hughes and replaced him with Roberto Mancini, an Italy international and successful manager with Internazionale of Milan. It seemed a ruthless move, but there was little dissent from the stands. In fact, a little ruthlessness crept into many of the fans, too; they were intent on City being successful, they felt they had remained loyal through all the ignominious decline, while United were winning everything, and they wanted nothing now to stand in the way of an ascent to trophies.
That summer, the Abu Dhabi regime sanctioned and bankrolled Mancini's shopping with a vast financial outlay hugely beyond what the club could have afforded were it living on its own resources. City signed Jérôme Boateng from Hamburg for £10.5m; David Silva from Valencia for £26m; Yaya Touré, attacking midfield force from the great Barcelona, for £24m; Aleksandar Kolarov from Lazio for £19m; Mario Balotelli from Internazionale for £24m, and James Milner from Aston Villa for £26m. Then, in January 2011, they signed the striker Mancini had long coveted, Edin Dzeko, from Wolfsburg, for £27m, who turned out rather more of a game-changer than Lee Bradbury had been for Frank Clark's £3m. This incredible series of international player purchases, unparalleled by any other club, totalled £156.5m. That brought the expenditure from Abu Dhabi, on transfer fees alone, to £376.5m in just two seasons.
Marwood showed me the 30-page, colour-coded analysis produced by City's new inter-departmental analytic system for just one 15-year-old on whom they had been keeping an eye. For major signings, Marwood said, the dossiers would run to 40 or 50 pages. Before, he said, "it was in people's heads". Not any more. "The players on Roberto's list, it was like a spreadsheet. It is that detailed, not left to chance."
Many people in football take the view that this venture is repulsive and vulgar, contrary to the sporting heart and traditions of the game. The president of Uefa, Michel Platini, wondered at a football culture which allowed a sheikh from Abu Dhabi with no connection to Manchester to buy up an institution as locally rooted as a football club, and pour money in without restraint. Reacting to the game's troubled relationship with money, Uefa introduced a rule, to be enforced from 2014, to try to stop clubs spending far beyond their true means and falling into financial trouble, as so many have during what should be football's best of times. Under the "financial fair play" rules, between 2011 and 2013 clubs will be permitted to make losses of €45m in total, at most. If they are flagrantly in breach and rack up huge losses, Uefa's ultimate sanction is to exclude that club from European competition, unthinkable for Sheikh Mansour's Champions League-aspirant project. City's losses for 2010–11, the year just before their finances come to be assessed for the financial fair play rules, were £197m, the greatest ever by an English football club. It was more than five times the total City will be permitted to lose over the following two years, and so made it look impossible that they could be anywhere near breaking even by the deadline, without Sheikh Mansour's bankroll.
Yet, whichever way I asked Al-Mubarak about the instinctive repulsion many people in football have for this kind of "project" – for a rich man to just buy a club, then pour in as much money as it took to buy success – he did not so much defend what they were doing as fail to understand the question. If you told him that English football was never based on an "owner" buying a club and throwing money in to buy a team of stars, you realised before you trailed off that Jack Walker had done just that at Blackburn in 1995 and Roman Abramovich at Chelsea since 2003. English football was open to it. If you said football was not supposed to be about which "owner" had the most money, so who could pay the most to players, thereby seducing them to their club, he wondered aloud how United had won the Premier League so many times, and how anybody could compete with them without money. If you tried to argue that a club should be a club, belonging to the people who support it, that a sporting competition does not seem sporting if it is owned by one rich man spending whatever it takes to stockpile the necessary mercenary talent, you would be describing an abstract idea with which he was unfamiliar, and which did not match reality as it was, and as it was viewed from Abu Dhabi. From there, Mansour had watched the Premier League become the most viewed domestic sporting competition in the world, overflowing with glamour and money. He had seen that its clubs were companies, not supporter-owned clubs like Real Madrid and Barcelona, or those in the German Bundesliga, and they were available for purchase by a menu of owners. United, Liverpool, Chelsea, Villa had all been bought; Spurs was owned via the currency speculator Joe Lewis in the tax haven of Bermuda, while Arsenal was being fought over by a Russian and an American billionaire. To Mansour and Al-Mubarak, this was more fun than oil and gas, but it was a company, a business.
"There is an opportunity we have identified and taken hold of," as Al-Mubarak put it. "A mid-tier club will move to become a big club because of the financial resources we are able to make available. Because we see value in making that transition. And that is the bottom line."
Over the years, I had felt, gradually and inexorably, a separation from City, the club that lit up my youth. As I came to understand how a new generation of "owners" was seeking to make money from the organisations we knew and loved as "clubs", I felt instinctively this was wrong for football. Ownership by one billionaire sheikh is the antithesis of such mutuality. Yet with all the fortunes poured in, the Abu Dhabi regime brought a professionalism, and an appreciation of City's heritage, that has made them, by contradiction, the most careful owners the club has had in my lifetime.
When the team they bought played on Sunday, the players were forced, ultimately, to confront the club's "Typical City" ghosts. An agonising 2-1 down with the whole 90 minutes gone, and Manchester United waiting to claim the championship, Edin Dzeko and Sergio Agüero scored. Manchester City supporters were beside themselves then, releasing tears of triumph and belonging. Gazing out, I felt tears of my own, a clenched-fist surge of my childhood self, when I loved my football club so much and never would have dreamed that anybody could own it.{jcomments on}
The Guardian